About this project
Responsive mobile first web app / admin dashboard template with flat ui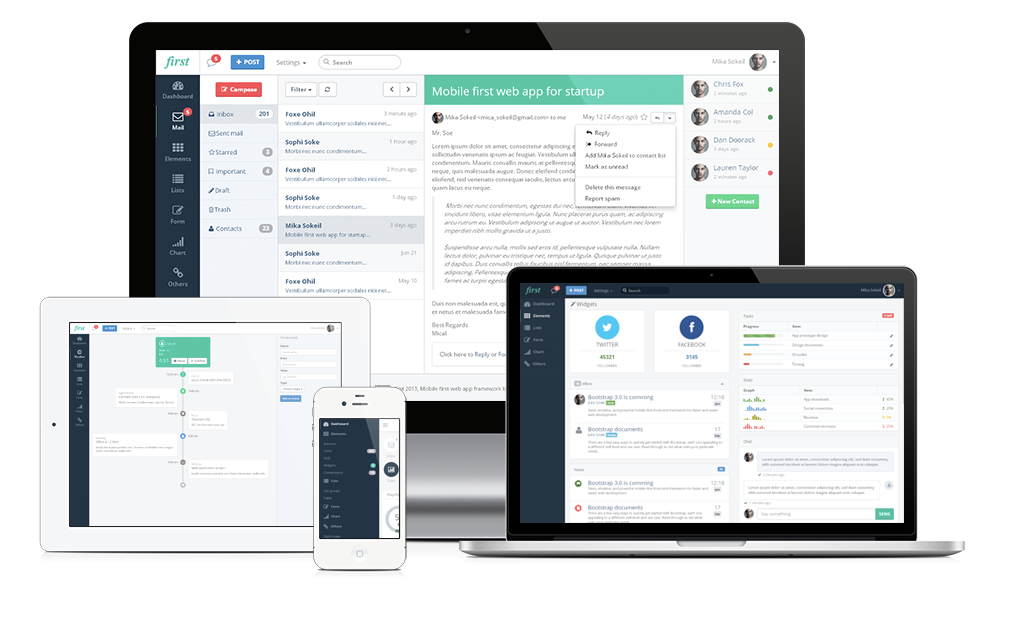 Web app
first contains many mobile app widgets and components, it's fully responsive, it can run on all the size of the screen.
Admin dashboard
first also can be used as admin dashboard, it has tables, charts and other useful components for admin management.
Features
Lightweight with rich components
Bootstrap 3.0
This project is based on Bootstrap 3. the sleek, intuitive, and powerful mobile-first front-end framework for faster and easier web development.
Lightweight
We only choose the lightweight plugins, but with rich functions. we use tiny components, css and js size is first consideration.
HTML5 & CSS3
first use HTML5 and CSS3 to build the components. the pages use header, nav, section to build the layout. this project have a good color scheme, can easy to change.
Mobile first
This project is fully responsive, but it's mobile first. it provide the off screen nav, and almost all the widgets are copatible to all the screen sizes.
Rich components
We build many components for your project need. also they are extensible and easy to customize.
Keep updating
We will keep update this project, we will keep adding new widgets and components.